How to fix your Working Capital problem…even if you are not "numbers person"?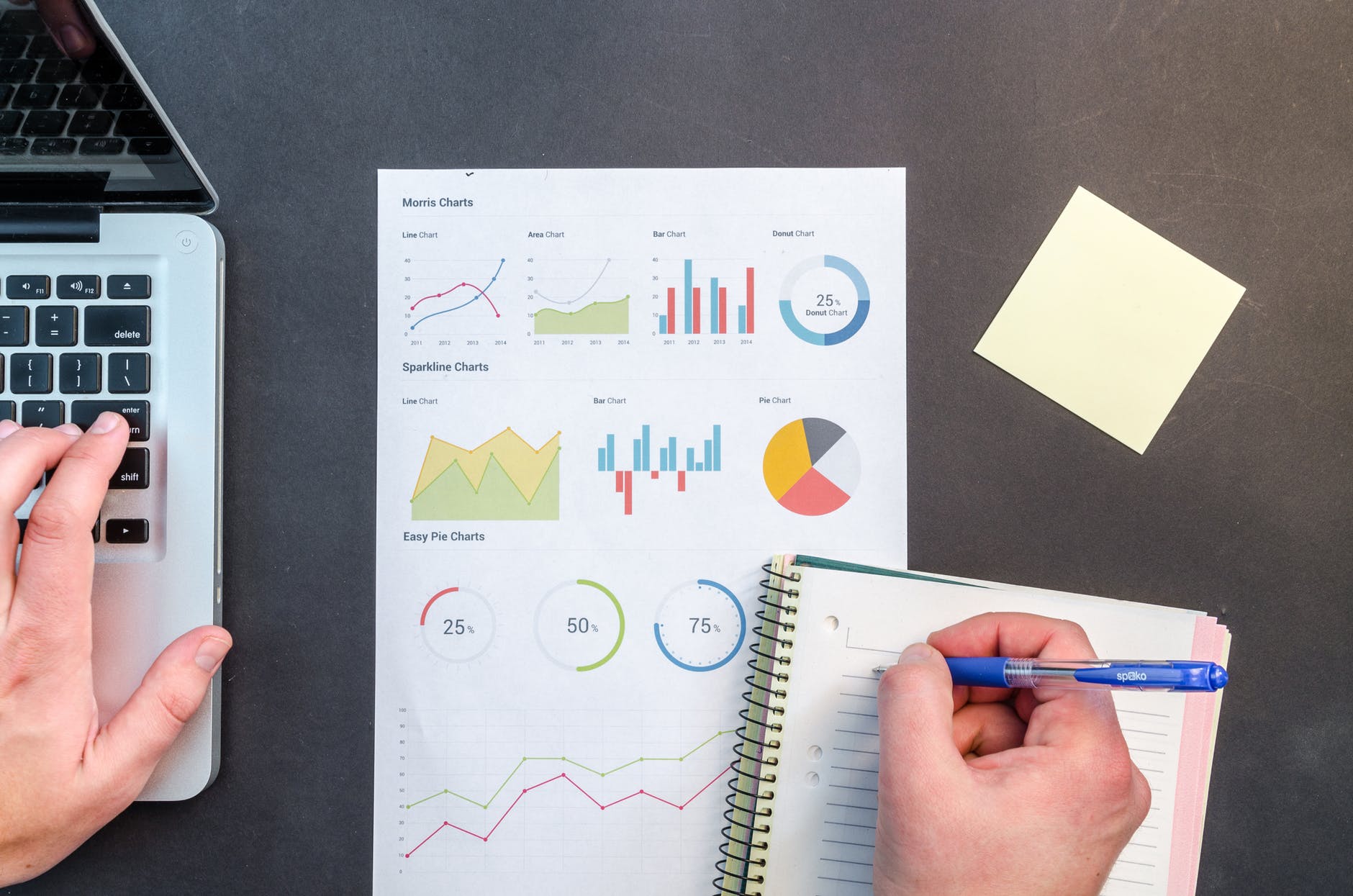 Look at your cash balance. You feel you should be able to have more cash, right? But when? And how?
The answer is, NOW! Your Working Capital holds most of the answers, you just need to be really serious about your cashflow to find them. Your results will depend on your work ethic, your focus and consistent effort and action. If you are not willing to accept that, DO NOT READ THIS BLOG.
With that said..let me jump right in and show you how you can generate cashflow by fixing your Working Capital issues.
Working Capital is the amount of cash that your business needs to trade, and it is generally consumed by two major current assets: your debtors and your inventory. Your trade creditors will fund some of this, so we always deduct the Accounts Payable amount when calculation your Working Capital requirements.
The problem is many companies lack the metrics to evaluate their Working Capital. And even if they understand this, they lack the tools to use to implement the changes. Working Capital problem, somehow does not seem to be a business priority. The reason? Working Capital issues are not as obvious as profitability issues, hence not linked to business and individual performance.
The myth is that CEOs think that Working Capital management should be delegated. For most businesses, P&L is the focus, this is how you measure business and operational performance. But cashflow is a result of profit, as well as Working Capital. So capital management should also be a number one priority.
In the next few paragraphs we are going to show you how you can fix your Working Capital problems and improve your cashflow.
Discover
Identify the sources of your cashflow problem. Examine your Working Capital and cashflow management to discover "trapped cash". Typical areas to look at are:
Your revenue cycle (sales order to cash)
Accounts receivable and your collection cycle
Inventory/WIP management
Supplier management (purchase order to pay)
During this process you will identify gaps in processes, systems and management-decision making related to how you manage your cashflow.
Analyse
Quantify the effectiveness of your Working Capital by using key metrics. These are your Debtors Days, Creditors Days, your WIP or Inventory days and your working capital days. As you can notice, Working Capital items are measured in days, to represent your current terms and requirements. Use our Working Capital tool for quick calculation of your Working Capital KPIs.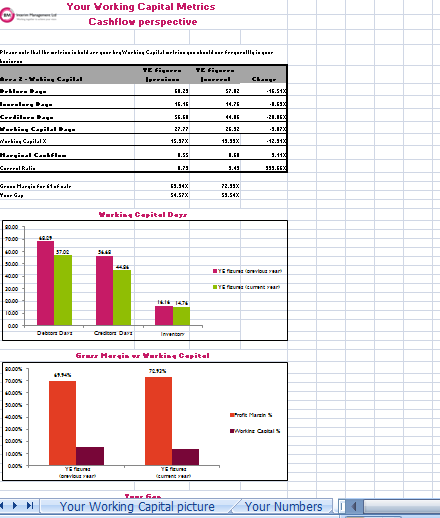 > Show me my Working Capital tool! <
Challenge your assumptions and beliefs
Uncover what is hindering the generation of cashflow in your businesses. This could be your assumptions and beliefs for what and when you need cash, or poor management behaviors, or your processes and systems.  Although not easy to carry out, this exercise will uncover what lies at the heart of cashflow problem in your business. We recently did this for one of our clients. The most difficult part was when we challenged the deeply rooted assumptions and beliefs that were not serving their customers. It was not easy for the client, but they started to feel relief when they saw that the  pay-offs were significant.
Agree and implement improvements

 
Implement financial and operational process improvements to maximise your cashflow. You will need to modify your beliefs and assumptions, as well as, change your policies and processes. Then operationalise best practices for financial, supplier and inventory management. If you need tools to sustain the improvements, download our Cash Acceleration tool. This will help you identify key Working Capital drivers, so you can monitor them continually to identify improvement opportunities.
Tip: You might discover a number of opportunities for cash generation. If this is the case, segment these opportunities into quick wins and long-term improvements. Your quick wins can bring you back in balance quicker. You'd be amazed to see that with focused effort on just a few areas you can achieve significant Working Capital improvements.  
Create visibility
We find that one of the issues companies face, when it comes to their Working Capital is that there is no visibility on cash and working capital performance across the business. To solve this, you need to incorporate your key Working Capital metrics into your management reporting. You could even link the Working Capital improvements to individual performance.
Align all people involved
It is important to involve your management team and all individuals contributing to Working Capital management in the improvement initiative. Involve them in the discovery processes as we as generating ideas for improvements. Empower your team with tools to help them understand payment terms and also see the profit/cash trade-offs when making decisions. After all cash touches every segment of your businesses, so make it a cross-functional initiative. 
You can use the above approach whatever your business model is. We have seen it work each and every time.
Like I said, there is more to cashflow than your P&L. The sooner you understand how your Working Capital is affecting your cashflow, the sooner you will witness the end of your cashflow worries.
Cashflow is not something you could ignore. It follows you everywhere you go, that's why it is so important to make it your number 1 priority.
Here is a fraction of what you will enjoy when you follow our process:
Improve your cashflow position – that is cash at bank as well as your cash in your bank account. Believe it or not you will be able to discover the "trapped cash" and release it into your bank account.

Shorten your cash conversion cycle – that is the time taken for your cash to flow back into your bank account from the minute you spend it on anything. Use our Cash Acceleration tool to stay focused on the improvements.

TODAY: map out your revenue cycle (sales order to cash) to see if you can identify opportunities for streamlining the processes or improving decision making. The secret is to approach this with an open mind and challenge what you see as "the norm".

You need funding or factoring facility to solve your Working Capital problem, right? Wrong! The "usual stuff" totally backfires when you really want to increase your cashflow. Here is a new approach, that's faster, simpler to implement, and better.

This is a proven way to improve your cashflow and positions you as the trusted authority in front of your staff, partners, suppliers and your bank manager.

Specifically designed for people who are not the "numbers people". This is really important for you because it puts you in the category money people who know "smart money".
If you are ready to take your cashflow to the next level then you need to download our Working Capital tool. It has the key metrics for evaluating your Working Capital effectiveness. You will be able to calculate these in a few minutes, as the formulas are already there for you.